10 Reasons Why Lead Generation Campaigns Are No Longer Bringing Results for Egypt's Brands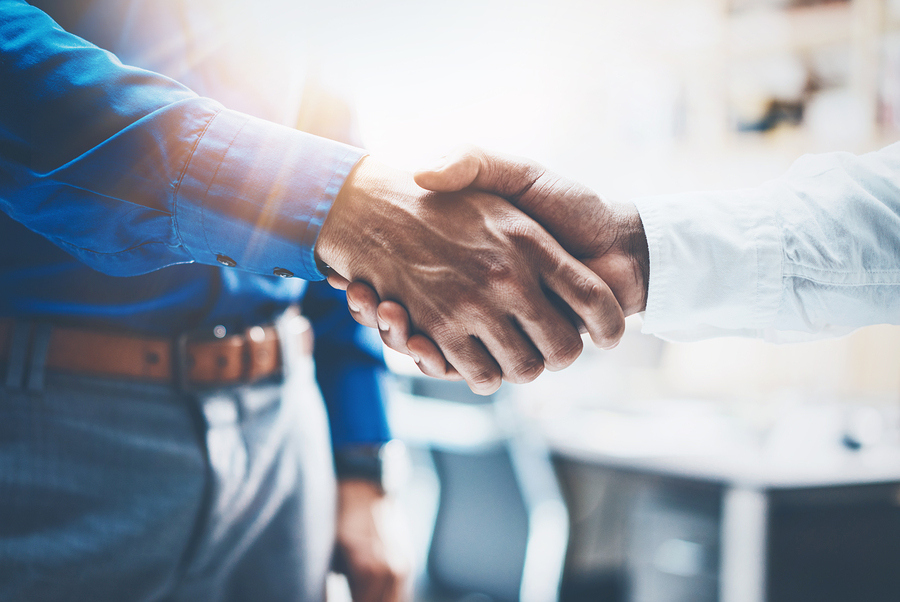 As we work with business owners, CEO's, and marketing leaders across various sectors in Egypt to build and grow their brand revenues, we have been witnessing the major challenges many are facing, when it comes to their digital lead generation campaigns. The strategy, which for some time appeared to be the most cost-effective approach to acquire customers for products and services is no longer bringing results.
Traditionally, a real estate developer would simply design a good-looking 3D render for a luxurious apartment with a catchy line; set targeting criteria using Facebook's lead generation tool; invest a reasonable advertising budget behind it; and hundreds of filled lead generation forms would land in daily as if with a touch of magic. The same approach was used by banks, insurance providers, automotive brands, education establishments, appliances, retailers among others.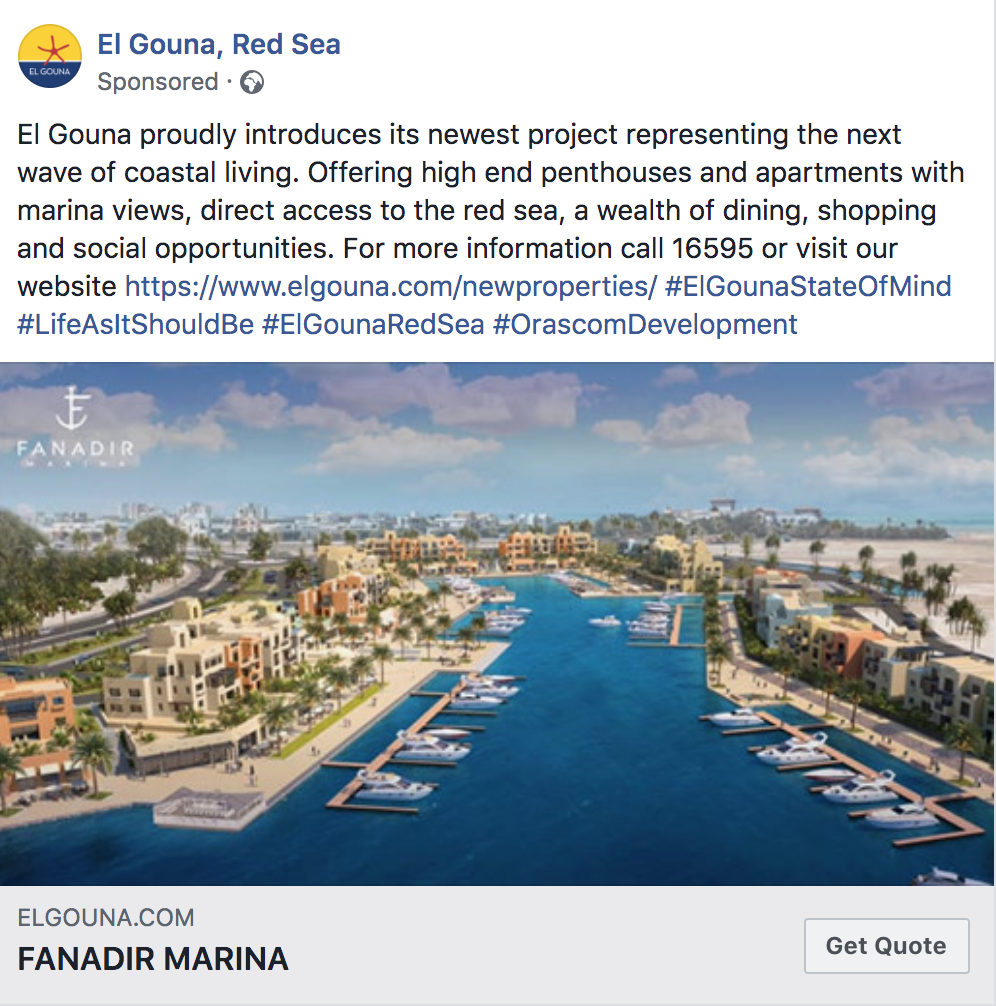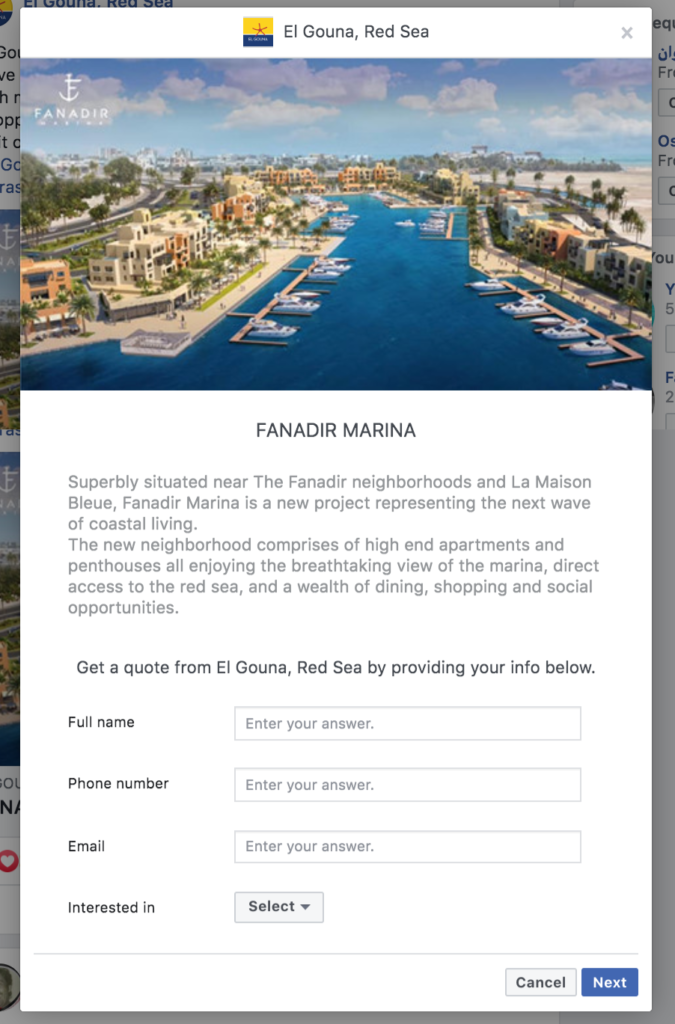 Although conversion rates never really exceeded 3%, everyone seemed not to mind, given the relatively low cost of such campaigns (compared to any other type of advertising). At the same time, the high in-flow of leads, kept sales teams' busy day and night chasing them by phone desperately trying to convert them into buyers.
Things Have changed
As a result of crowding and competition, slow markets, rising costs per lead, declining conversion rates, and of course the continuous complaints of sales teams about leads quality, whose majority never even answer phone calls, marketing teams and agencies were challenged to come up with alternative strategies.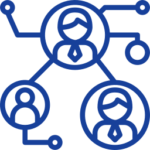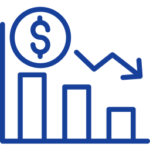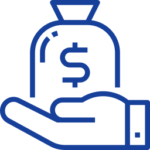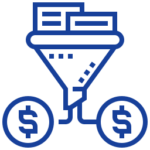 Declining Conversion Rates
However, most of the alternative strategies discussed at the moment only revolve around moving budgets from Facebook to other platforms such as Linkedin, Instagram, popular publishers, or perhaps the recently trending Wetransfer. Unfortunately, shifting from one platform to another does not solve the structural problems of traditional lead generation.
Hence, we put together this guide to help business owners, management executives, and marketing leaders understand the key reasons behind the failure of the traditional approach. This is the essential starting point for developing and successfully implementing a more effective lead generation strategy.
1: "Hello……Buy From Me" Does Not Work
Every good sales person knows that prior to trying to sell anything to a prospect customer, he/she needs to first establish trust and rapport. There is absolutely no reason to assume that things would work differently online.
The structural problem of traditional lead generation is this illogical attempt to convert a prospect who knows nothing or perhaps very little about your brand, into an actual buyer in one leap.

2: Give Give Give ……..Then Ask
You would not ask a girl on the first date to marry… would you? Unfortunately, when it comes to marketing many brands choose to do so. They ask prospects to buy from the first date and they are surprised that they are not getting a YES.
Brands should be developing a relationship of mutual benefit with their prospects to prove to them that they are worthy of their time and attention. An effective way of doing so, is helping the prospect solve a problem for free without asking for a sale. By doing so you are becoming a useful source for them and in the process, you have actually positioned yourself as an authority or an expert, when it comes to solving their problems or realizing their goals within a specific area. Naturally, it makes you the person they would most likely want to talk to once they are ready to buy. So what you want to be doing is Give Give Give and then when they have known you enough and warmed up enough you can ASK.

3: Traditional Lead Generation Does Not Match Content With Customers' Intent
Effective marketing messages must be matched to buyer stage and intent. A prospect who opened and consumed a brand marketing email, but did not follow through with the "call to action" may be perhaps invited to consume a 2nd piece of content including further reasons to believe the brand.
Upon opening and consuming the 2nd e-mail the prospect may be signaling that he has moved to the "interest" stage. If he consumes a 3rd piece of content including concrete product and offering details he may be signaling that he actually moved to the "consideration" stage.
Modern marketing funnels use data and analytics to understand the intent of prospects, as well as automation to create content pathways, that match content with intent.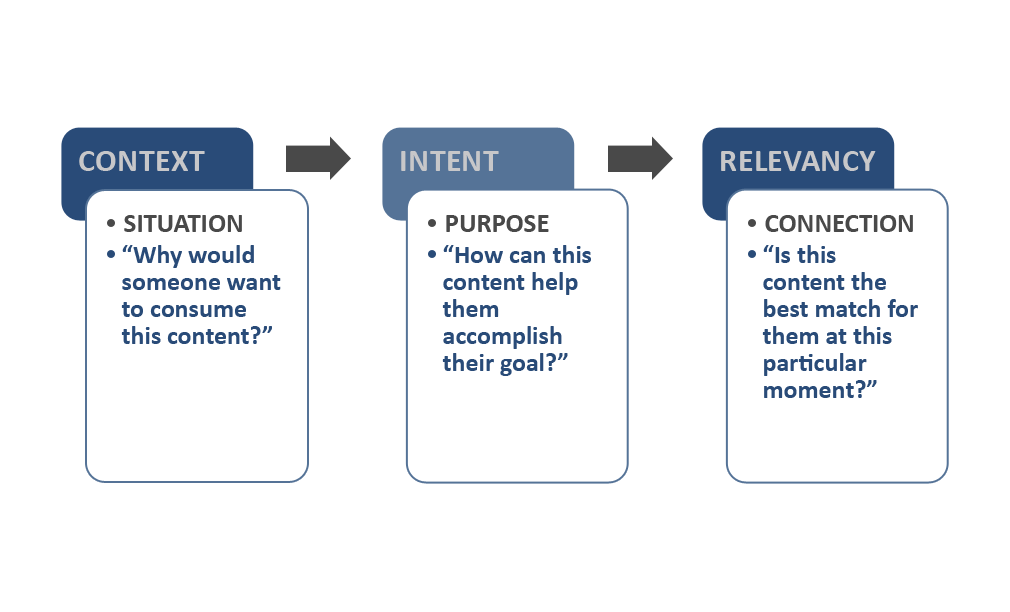 4: "Content Driven Marketing" Is Replacing "Product Driven Marketing"
Content-driven marketing is a stream of individual pieces of communication based on a brand story, which deliver value to customers by being timely, relevant, and useful.
What you want is to translate your brand story into a set of concrete content assets, that can solve the customer's problems and fulfil his/her needs within the different stages of the customer's journey. Initial brand engagements along the journey should include content that revolves around the customer's pains, problems, needs, and goals.
Later on, as the prospect moves closer to the buying decision stage, content should start to focus on what we sell, and how it fits into solving customers' problems and how it helps them achieve their goals. Traditional lead generation is an outdated product driven marketing strategy.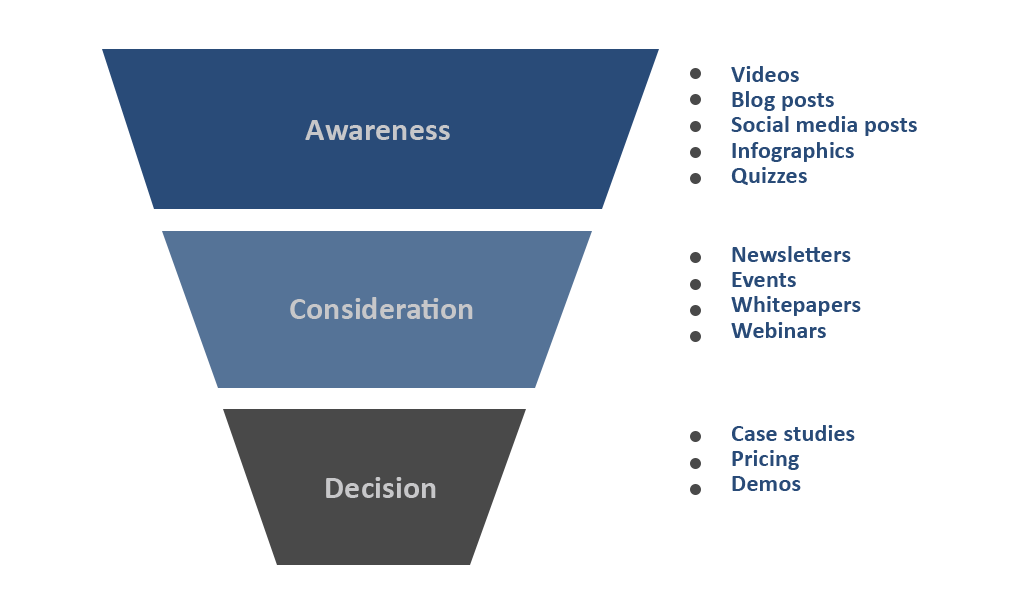 Examples of content pieces mapped to the stage within the buying journey
5: Leads Are Transferred Too Early To The Sales Team
This is defined as "the lead nurturing gap", which currently results from transferring prospects to the sales team too early, before they are prepared to make a buying decision.
A prospect who just clicked on a good looking visual, watched a brand video or even filled a traditional lead generation form is certainly not ready to commit to a real-life conversation with a sales person.
Lead nurturing converts a cold lead into a warm lead, that is closer to the decision stage of the journey, prior to transferring him/her to sales to avoid wasting everyone's time.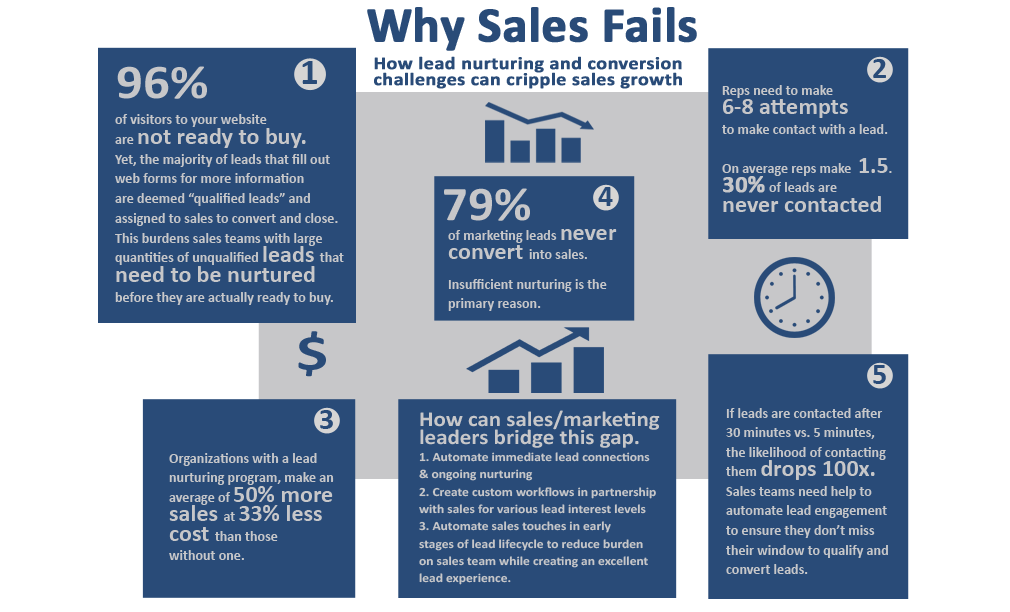 A recent study by Clienttheter revealed that transferring inbound leads to the sales team prior to nurturing them with relevant content results in major time and budget inefficiencies and lost opportunities
6: Leads Quantity As Opposed To Quality...
A marketing funnel must include an upstream part (acquisition), and a downstream part (conversion). Traditional lead generation may be effective upstream. After all, it usually lures in a high number of individuals to fill lead generation forms (specifically because it almost does not discriminate, except for the very general targeting criteria Facebook offers).
Yet, it is certainly a failure in terms of conversion, due to its huge downstream leaks and the absence of mechanisms to fix them. While platforms such as Linkedin offer extensively more sophisticated targeting criteria in return for higher costs per lead, a simple budget migration to it, does not solve the structural problems of traditional lead generation.
Ultimately, in order to improve the quality of leads, Egypt's brands would need to start building end-to-end content driven funnels, which utilize analytics, automation, and storytelling to guide prospects down the full customer journey.
Brands across different sectors in more advanced markets have been effectively adopting this approach for some time now.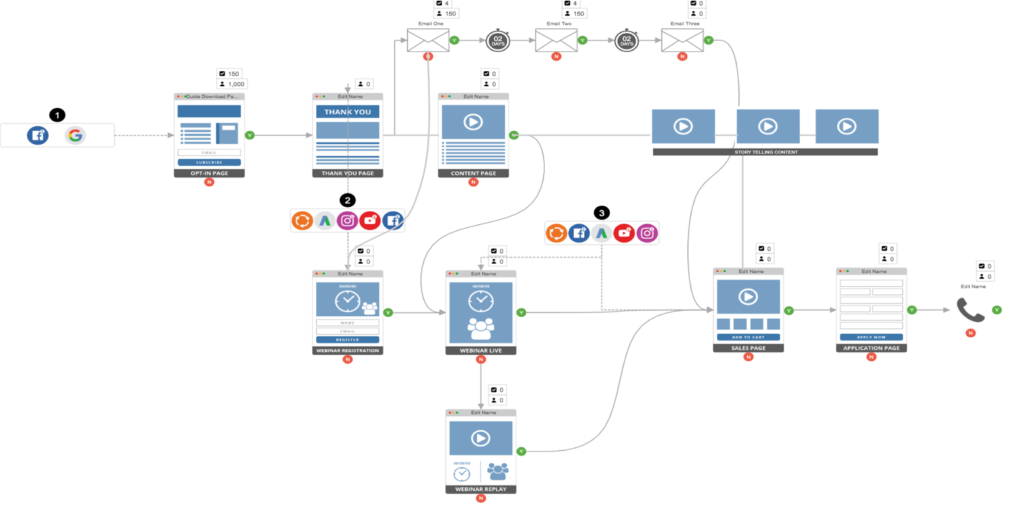 This is an example for an end-to-end marketing funnel map we recently built for one of our clients
7: Are You Remarketing?
Remarketing allows us to reconnect with prospects, who have previously interacted with our content (website, banner ad, Facebook ad,…etc.). It is a good strategy to use as long as it is based on understanding customers' intent, and matching content to it.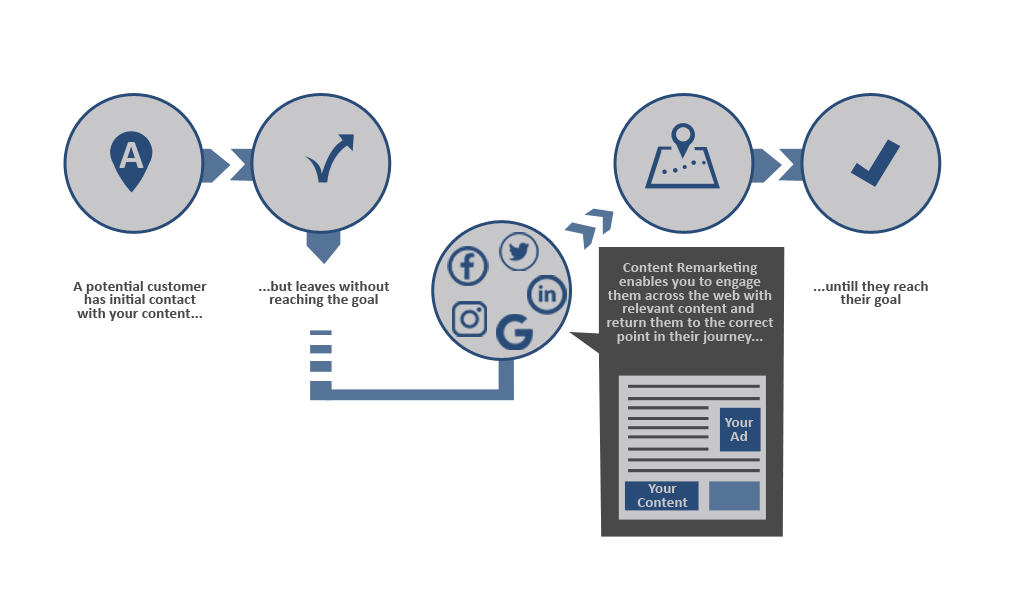 8: Absence Of Automation...
Automation is essential to scale marketing in a personalized manner and in real time. While analytics make marketing smarter, automation streamlines and scales its workflows.
Now, that marketing teams are more and more held accountable for demand generation, lead nurturing, personalized customer engagement, and demonstrating return on marketing investments, automation comes in as handy technology enabling brands to scale.
Automation software functions cover various areas such as creating a unified system to store marketing data including history of customer interactions, marketing operations such as the execution of marketing programs, content running pathways, all the way to analytics, and attribution.
Traditional lead generation includes only minimal use of automation, an important reason that adds to low effectiveness.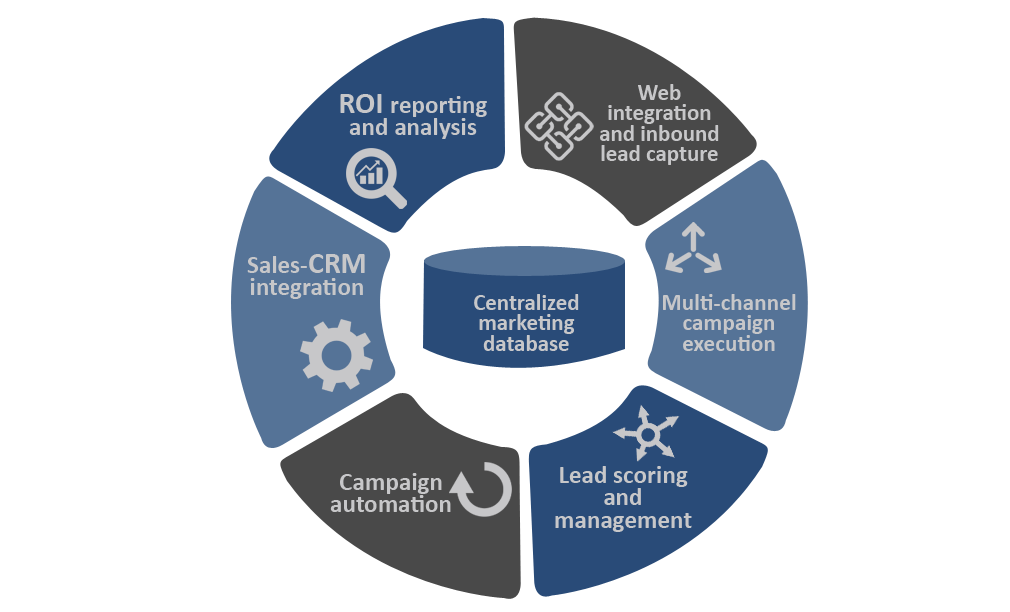 This is an example for an end-to-end marketing funnel map we recently built for one of our clients
9: Your Are Not Fast Enough
Conversion Rate Drops By 400% If Lead Is Contacted 24 Hours Vs. 1st Minute From Filling The Form
It takes the majority of companies in Egypt at least 48-72 hours to contact a prospect, who filled a lead generation form. This delay is a major factor causing the low conversion rates according to many recent studies including the below one by insidesales.com, which shows that contacting a prospect within the first 2 minutes raises the conversion chances by 400%.
This requires integrating your CRM system with Facebook and other advertising portals along with using automation tools for immediate new lead notifications.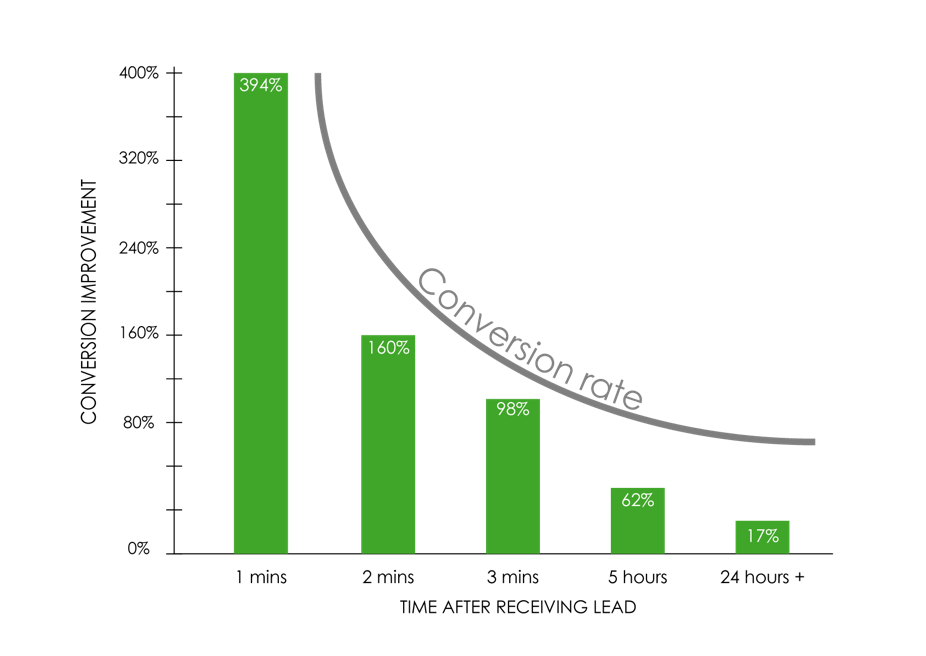 10: You Can't Fix Unless You Measure…
Modern marketing and lead generation strategies and tools require an experimentation mindset. At the same time, they allow attribution, that is measuring and assigning credit for sales and conversions for specific marketing touchpoints.
Measuring and attribution are essential to help marketing teams understand and demonstrate ROI, and of course to allocate budgets and resources in an optimum manner. Attribution methods include toggling certain marketing initiatives on and off while measuring effect as well as A/B testing of a variant among others.
It is a key advantage offered by digital media, which is unfortunately often overlooked. Best practices to conduct effective marketing experiments include being specific about what to test, developing insightful hypotheses, engaging with customers using qualitative approaches, and testing continuously.
An example of funnel analytics visualization
about the author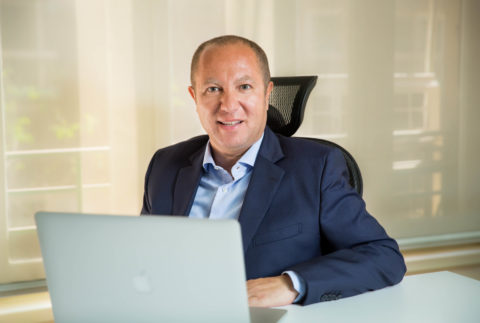 Nader Elhamy
A senior marketing, commercial management & Digital Strategist with over 20 years' experience.
Founder & Managing Partner of Toolbox Marketing Consulting.
Member of the commercial management team, which conducted the turnaround of Al-Ahram Beverages Company.
​He has launched, re-launched and managed some of Egypt's largest and most successful brands across a variety of sectors including FMCG, Real Estate, Destinations, Food & Beverages, Hospitality, Textiles, Retail, Media, White Goods, Electrical Accessories, and Manufacturing.